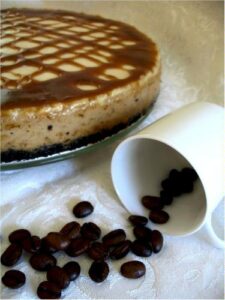 Coffee in general is a favorite flavor and beverage of mine. Yet, while the wide array of gourmet coffee drinks always sound so enticing, the vegan options from which I can choose are sadly limited. After leaving so many cafés empty handed, I decided to turn my greatest craving into cake! As aromatic as a coffee shop, and dressed with a vanilla and caramel topping, this cake is a spitting image of the original. Now you can have your coffee and eat it, too! Recipe and photo by Hannah Kaminsky, from My Sweet Vegan: Passionate About Dessert.*
Chocolate Crust:
1 1/2 cups chocolate wafer cookie crumbs
1/4 cup margarine
1/4 tsp salt
Coffee "Cheese" Cake:
1 (12 oz) package extra-firm silken tofu
2 (8 oz) packages vegan cream cheese
2/3 cup granulated sugar
2 tbsp instant coffee powder
1/4 cup Kahlua® or coffee liqueur
1 tsp vanilla extract
1 pinch salt
Vanilla Topping:
1 cup vegan sour cream
1 tbsp vanilla extract
1/4 cup granulated sugar
Caramel Sauce:
2 tbsp margarine, melted
1/2 cup dark brown sugar
2 tbsp plain soymilk
1/4 tsp salt
1 tsp arrowroot powder
Preheat your oven to 350°F (175°C) and lightly grease a 9-inch springform pan.
Place the cookie crumbs in a medium bowl and pour the melted margarine on top. Add the salt, stirring to thoroughly coat all of the crumbs, and dump this mixture into your prepared pan. Use your palms to firmly press the crumbs down, taking care to completely cover the bottom. Bake for approximately 10 minutes and let cool, leaving the oven on.
For the main body of the cake, drain the package of tofu before tossing it into your food processor or blender to purée. Once smooth, add in the vegan cream cheese and sugar, processing again to combine. In a small dish, stir the coffee powder into the liqueur to dissolve all of the granules. Add this mixture into your food processor or blender, and process to combine. Add the vanilla and salt, scrape the sides to make sure you are not leaving anything out of the mix, and process one last time to completely blend all of the ingredients. Pour the mixture into your pan and tap gently on a flat surface to release any air bubbles trapped below the surface. Smooth down the top with a spatula, and bake for 20 minutes. After that amount of time, lower the oven temperature to 325°F (160°C). Bake for an additional 20 to 25 minutes, until the cake is still a bit wobbly in the center but slightly darker in color.
As the cake finishes baking, stir together the vegan sour cream, vanilla, and sugar in a small bowl until smooth. Once the cake comes out of the oven, pour this layer over the top, and smooth it down to achieve an even covering. Bake once more for 5 to 10 minutes, just until bubbles begin to percolate around the edges. The cake will still seem rather loose and wobbly, but it will continue to set up as it cools. Let it come to room temperature before making the caramel drizzle.
To complete the cake, set a saucepan on the stove and gently melt the margarine over medium heat. Once liquefied, add in the brown sugar, soymilk, and salt. Whisking slowly and steadily, bring the mixture to a gentle boil and continue to cook for about 5 minutes. Stir in half of the arrowroot and whisk thoroughly to prevent lumps. Cook for one more minute, remove from heat, and add in the remainder of the arrowroot, whisking rapidly once more. Let the sauce cool for at least 10 minutes before pouring it over the cake in a checkerboard pattern, or as desired.
Hannah Kaminsky is the author of My Sweet Vegan* and the forthcoming Vegan Desserts.* Visit her blog, Bittersweet.
*This post contains affiliate links. If the product is purchased by linking through this review, VegKitchen receives a modest commission, which helps maintain our site and helps it to continue growing!