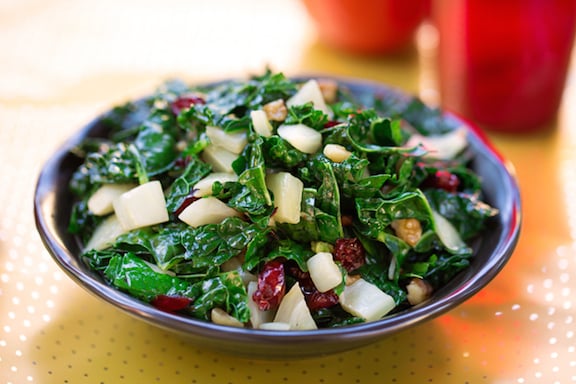 This colorful kale dish featuring fennel and walnuts makes a lovely Thanksgiving side dish, but you need not wait for a special occasion to enjoy it. Recipe contributed by Ellen Kanner. Photos by Hannah Kaminsky.
Festive Kale with Fennel, Cranberries, and Walnuts
Author: Ellen Kanner
Recipe type: Vegetable side dish
Cuisine: Healthy / Thanksgiving
Prep time: 
Cook time: 
Total time: 
Serves: 6 to 8
1 fennel bulb
2 lbs kale (roughly 8 cups, packed)
2 tbsp olive oil
¼ cup sherry
1 pinch red pepper flakes
⅓ cup dried cranberries
⅓ cup chopped walnuts
salt and freshly ground pepper, to taste
Remove stalks and fronds from fennel. Chop fennel bulb into bite-sized cubes and pieces.
Remove stems from the kale leaves, and cut the kale into bite-sized pieces or strips. You can discard the stems, or slice them very thinly and use as well.
Heat oil in a large pot over medium high heat. Add chopped fennel to pot and sauté for 8 to 10 minutes, or until tender.
Add kale by the handful, stirring gently until wilted, but still bright green, about 8 minutes. Stir in sherry, pepper flakes and cranberries.
Spread walnuts on a rimmed baking sheet. Toast for 10 minutes in a 350°F oven or toaster oven until golden brown and fragrant. Or, you can toast them on a dry skillet over medium heat. Let the walnuts cool briefly, then stir into the fennel and kale mixture.
Season with salt and pepper, transfer to a bowl, and serve.
3.3.3077
Ellen Kanner writes the Meatless Monday column for The Huffingon Post, and is the Edgy Veggie, a syndicated columnist.