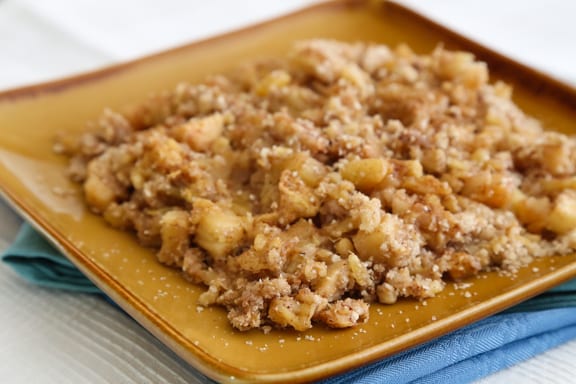 Matzo meal makes a perfect crumble topping for a fruity dessert made with pineapple and pears or apples to round out the Passover meal. Serve with a dollop of nondairy ice cream if you'd like to dress it up. Photos by Evan Atlas.  
Passover Pineapple Crumble
Author: VegKitchen
Recipe type: Passover dessert
Cuisine: Jewish
Prep time: 
Cook time: 
Total time: 
Serves: 8
1 (20 oz) can unsweetened pineapple tidbits, drained (or 1½ to 2 cups fresh pineapple, finely chopped)
2 medium pears or apples, peeled, cored, and finely diced
1 tsp vanilla extract
½ tsp cinnamon
pinch of nutmeg
2 tbsp vegan buttery spread (such as Earth Balance)
½ cup matzo meal
⅓ cup walnuts, finely ground
¼ cup natural granulated sugar
½ tsp cinnamon
vanilla nondairy ice cream, optional
Preheat the oven to 350°F.
Combine the first 5 ingredients in a mixing bowl, then pat into a 9-inch square baking pan.
Melt the buttery spread in a skillet, then remove from the heat. Stir in the remaining topping ingredients until everything is evenly coated.
Remove from the heat and pour over crust in the baking pan. Sprinkle the crumble topping evenly over the top of the pineapple mixture.
Bake for 25 to 30 minutes, or until the crumb topping is lightly golden. Serve warm on its own or with nondairy ice cream.
3.3.3077