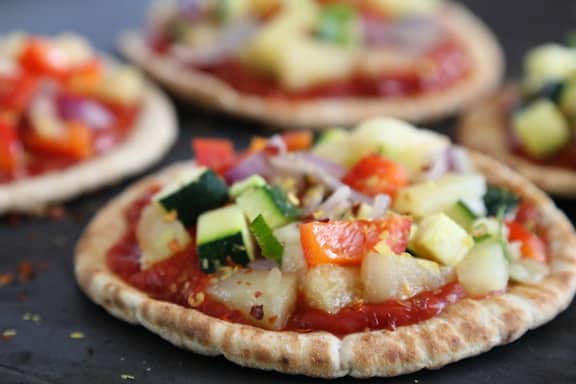 This pizza variation could not be easier. I have found the key to vegan pizza is loads of fresh toppings and contrasting flavors. In this pineapple veggie pizza on pita bread, the sweet fruit mingles with a myriad of fresh vegetables—the more the better. Recipe and photo contributed by Vicki Brett-Gach of Ann Arbor Vegan Kitchen. Photos by Evan Atlas.
Pineapple and Veggie Pita Bread Pizza
Author: Vicki Brett-Gach
Recipe type: Pizza
Cuisine: Vegan / healthy
Prep time: 
Cook time: 
Total time: 
Serves: 4
4 thick whole wheat pita breads (6-inches each)
pasta sauce, pizza sauce, or tomato sauce
red bell peppers, diced (raw, sautéed, or steamed)
vidalia onions, diced (raw, sautéed, or steamed)
zucchini, diced (raw, sautéed, or steamed)
crushed pineapple or pineapple tidbits, well drained (or finely chopped fresh pineapple)
fresh basil, ribboned
Italian seasoning, to taste
nutritional yeast or red pepper flakes for topping, optional
Preheat oven (or toaster oven) to 425°F.
Slice pita breads in half. Place pita halves onto a baking sheet. Slather with a thick layer of pasta sauce.
Top the sauce generously with all the toppings of your choice. Sprinkle the pizzas with a touch of salt and pepper and/or Italian Seasoning.
Bake for approximately 10 to 12 minutes, or until the edges begin to turn crispy and golden brown, and the center is hot and bubbling.
Remove from oven, and serve hot. Top with nutritional yeast or red pepper flakes, if desired.
3.3.3077
–