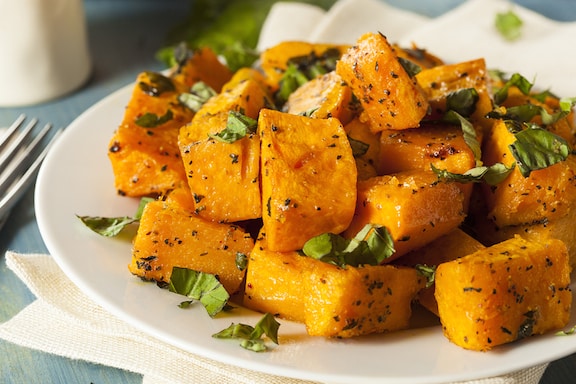 With a subtle hint of soy sauce and maple syrup, this is a simple recipe that makes roasted winter squash positively addictive. It's a nice addition to everyday or holiday winter meals.

Serves: 6
2.5–3 lbs small winter squash (carnival, golden acorn, delicata, or other; or use the equivalent of butternut)
3 tbsp maple syrup (or use agave nectar)
1 tbsp soy sauce, or to taste
2 tsp dark sesame oil
2 tbsp olive or other vegetable oil
1 1/2 tsp salt-free mixed seasoning blend (such as Frontier or Mrs. Dash)
1/4 cup minced fresh herb of your choice (parsley, cilantro, and or basil)
Preheat it to 375°F.
Cut the squashes in half lengthwise. Place the halves cut side up in a baking dish with about 1/2 inch of water, and cover each half tightly with foil. Bake until easily pierced with a knife but still firm, about 30 to 40 minutes, depending on the type and size of squash used. If you don't have a knife sharp enough to cut the squashes in half, simply wrap in foil, place them in a casserole dish, and bake until they can be just pierced through, but are still firm
When the squashes are cool enough to handle, scoop out and discard the seeds. Peel the squashes and cut into 1-inch chunks. This can be done ahead of time.
Once you're ready to roast the squash, heat the oven to 425°F.
Combine the squash chunks in a mixing bowl with all the remaining ingredients except the fresh herb and stir together well. Transfer to a parchment-lined roasting pan.
Roast for 15 to 20 minutes, or until nicely glazed, stirring once or twice. Serve from the pan or transfer to a covered serving container.